Download SOLIDWORKS 2018 #sw2018
Go to https://www.solidworks.com/ Near the top right of the page is the SOLIDWORKS Customer Portal.
Sign into your account using your email address and password. If you do not have an account, click the Create a SOLIDWORKS ID.
For information on How to create the customer, portal clicks the below link https://www.logicalsolutions.in/how-to-create-solidworks-customer-portal-login/ and create the Account.
Once you are logged in, click on Downloads and Updates under the Download section.
On the Downloads page, make sure that 2018 is the Selected Version. Then, click on the SOLIDWORKS Products link.
Read the SOLIDWORKS Download End User License agreement and then click the Accept Agreement & Continue button.
On the Download and Install page, under Step 2, click Download.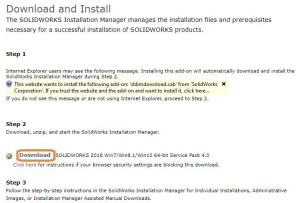 Install SOLIDWORKS 2018 #sw2018
Browse to the downloaded SolidWorksSetup.exe file. To run the file, I prefer to right click on the file in Windows Explorer and select Run as administrator. This makes sure that Windows has full permissions to change any file it needs to. If you double click on the file, it may work just fine, but a lot of installation failures are due to lack of proper permissions. The file is a self-extracting zip file. So, when prompted, choose a location and Unzip the file. This will launch the SOLIDWORKS Installation Manager.
Note: SOLIDWORKS recommends that you restart your system before beginning a SOLIDWORKS installation. You will be prompted if a pending reboot is detected.
For an Individual installation, click Next.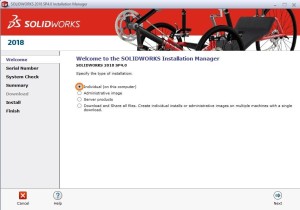 Enter the serial no. If you have another serial number enter it.
Once your serial number(s) is entered, click Next.
The Installation Manager first performs a system check. SOLIDWORKS is checking to see if previous versions are detected. If you receive a warning, please review the warning before continuing by clicking Next.
The first item on the Summary page is the option to select which Products you want to install. Use the CHANGE option to select what products you want to install.
By clicking CHANGE next to Download Options, you can choose to download and install in the same operation or download separately then install.
Here we will Download only first and then come back run the install again and choose to Install only. This works well if you have more than one user. You can just copy the entire downloaded folder to another machine and you will have all the installation files ready to go.
Return to the summary by clicking Back to Summary. The last step is to check I accept the terms of the SOLIDWORKS License Agreement.
You are now ready to Download and Install.
Once the install is completed, please join the SOLIDWORKS Customer Experience Improvement Program.
To get more updates on SOLIDWORKS Follow Us on LinkedIn: Click Here
For more details Like Us on Facebook: Click Here
For videos SUBSCRIBE to our channel: Click Here
For more information: Click Here