The project planner role in 3DEXPERIENCE promotes team based planning's for all the business users through simple and assisted iterative planning, execution and monitoring of projects. It connects team members through a flexible and collaborative approach.
Here Project Planner is a Role and as known to us Roles contains Apps. In the compass we can see the Roles assigned to us and there we can see the highlighted role Project Planner
There are 2 different apps in the Project Planner: a) Collaborative Tasks
                                                                                    b) Project Planning.
By double clicking on the Project Planner role, we can see those two apps in it as shown in the below image.
The Collaborative Tasks app helps us to create a task and assign that task to the concerned person and can also see the progress and status of that work and also Team members can also be benefited with Realtime updates and notifications through cloud and mobile experience. To make the project complete in time we can also set the deadline for that project and make our team members work accordingly and the members who has been assigned the task can update the percentage of work completion. The below image represents the interface of the Collaborative Task.
The Project Planning app is similar to the Collaborative Tasks but here the focus will be on the particular Project and the tasks assigned to us. All the terms what have been
used in the Collaborative Tasks are included in Project Planning. We can create and also import the project as per our requirement. The below image represents the interface of the Project Planning.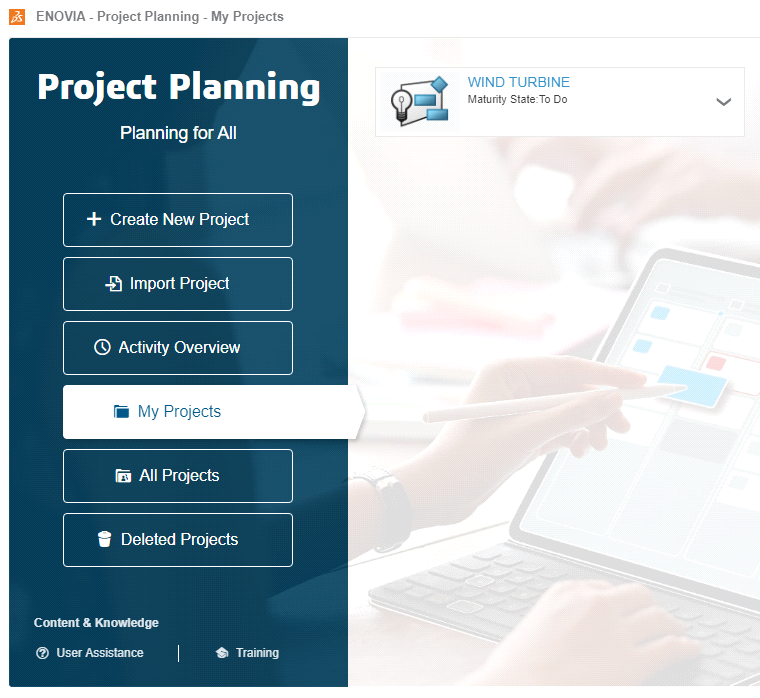 Highlights:
All team members manage tasks, durations and milestones to ensure project's success.
Easy and intuitive way to create task dependencies and re-sequence tasks when needed.
Attach documents and deliverables to tasks for review by team members.
Optimization engine automatically schedules and optimizes project to meet key milestones.
Summary Tab provides real-time status of project progress for all team members.
Access project information from any web browser-enabled device.
To know much more about Project Planning, Do watch the video in our channel through the below link
To get more updates on SOLIDWORKS Follow Us on LinkedIn: Click Here
For more details Like Us on Facebook: Click Here
For videos SUBSCRIBE to our channel: Click Here
Get A Quote Today: Click Here