The SOLIDWORKS 2019 Beta program provides early access to test the SOLIDWORKS software.
Beta testers can either download and install the SOLIDWORKS 2019 Beta software or run the SOLIDWORKS 2019 Beta Online version for anywhere, anytime testing through the use of a supported browser. There is no need to download, install or activate any software!
SOLIDWORKS 2019 Beta Online is available for the duration of the Beta evaluation period (ending approximately September 9, 2018).
New! In addition to the availability of all three beta releases online, there will be intermediate bug fix updates midway between the B1 and B2, B2 and B3, and B3 and Pre-Release milestones.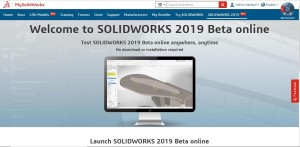 There are a limited number of sessions available, so give it a try today!
To launch SOLIDWORKS 2019 Beta online:
Log into the SOLIDWORKS Beta website (http://www.solidworks.com/beta/)between now and the end of the Beta Program (approximately September 9, 2018).
Click on the 'Try Online' link.
Log in using your 'my.solidworks' credentials.
Click on 'Launch'

Please share your feedback with us.
If you find any bugs with the available products, or if you experience any problems that prevent you from using these products as you would in a local environment, then please report these issues as Beta Service Requests (SRs) in the same way that you normally do during the Beta period ('SOLIDWORKS Feedback' toolbar > 'Submit a Bug').

To save a SOLIDWORKS Rx capture, you must connect to an online storage account such as Dropbox™, Google Drive™, or Box™). Once connected, the cloud storage will display as a drive in which you can save files.
Download your saved Rx capture and attach it to your SR.

Use the 'SOLIDWORKS Feedback'toolbar to send us a quick comment.
Post your feedback, in the SOLIDWORKS 2019 Beta forum
To get more updates on SOLIDWORKS Follow Us on LinkedIn: Click Here
For more details Like Us on Facebook: Click Here
For videos SUBSCRIBE to our channel: Click Here
For further queries contact: 9133445956